The animal kingdom is singing and so can you!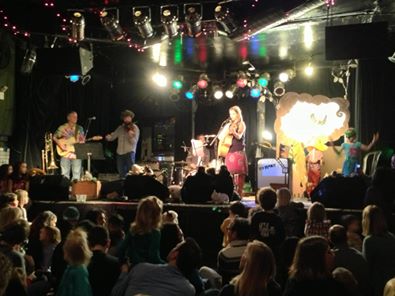 Animal Singdom
A magical, musical adventure packed with original music, puppetry, and learning. It's a celebration of earth and its precious creatures.
Jump along with Jump Tree Frog from our show!
The LIVE show can come to you!
For booking, contact: jennamurfin@gmail.com
Questions about our classes, programs, and shows?
Email Erin: erinflycy@gmail.com
Coming Soon:
Animal Singdom Songbook & CD
We are excited to be performing every once in awhile and hope to see you soon at a live show. In the meantime, hibernate with The Animal Singdom Songbook and CD featuring the art of Joan Fausch Flynn and the songs of Erin Flynn and The Animal Singdom Band. And, you can become an animal expert when you collect illustrated cards for your field notebook. For those who love and protect animals on earth and delight in discovering...
music in nature.


Venture into more of Animal Singdom...