The animal kingdom is singing and so can You!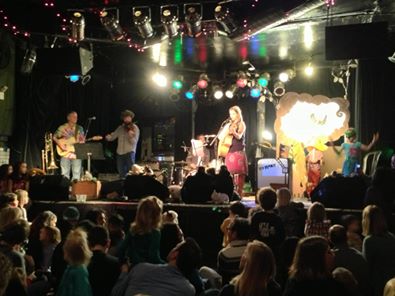 Animal Singdom LIVE!
We are working hard on our next show-alive with new songs and puppetry! Join Erin, Jarod, Geoff, Stevie, and the puppets for The City of Chicago's Juicebox Series.
Friday, Oct 21st, 11AM, Chicago Cultural Center
Saturday Oct 22nd, 11AM, Garfield Park Conservatory
Jump along with Jump Tree Frog from our show!
The LIVE show can come to you! Contact: Animal Singdom
Coming Soon:
Animal Singdom Songbook & CD
We are excited to be performing every once in awhile and hope to see you soon at a live show. In the meantime, hibernate with The Animal Singdom Songbook and CD featuring the art of Joan Fausch Flynn and the songs of Erin Flynn and The Animal Singdom Band. And, you can become an animal expert when you collect illustrated cards for your field notebook. For those who love and protect animals on earth and delight in discovering...
music in nature.


Venture into more of Animal Singdom...